Mi Electric Scooter 3
Elevate your ride
Travels up to 30 km distance*
Sufficient electrical energy
Maximum power 600 W
Strong power motor
New rear dual-pad disc brake
More stable and safer
3-step folding*
Quick storage for more convenience
Aerospace grade aluminum body
Light and sturdy
Strong performance to help with riding
Stronger power output with maximum power of 600 W
The scooter can reach a maximum speed of 25km/h and has a 16% slope climbing capacity. Propel yourself forward with just a light press of the accelerator.
30km extra long-range
The kinetic energy recovery system (KERS) can recover kinetic energy from braking and coasting, and convert it into usable electrical energy to further improve travel range. Freely cruise through wide streets and narrow lanes, enjoying the beautiful scenery along the way.
Three speed modes, easy switching
Simply press the power button twice to switch among three modes. When commuting to work, press S to go faster. When cruising around the park, press D, and in crowded areas, you can turn on the pedestrian mode to walk alongside. The safety of the speed modes has been evaluated by TÜV Rheinland* according to EN17128 regulations.
Smarter and more endurable battery
When the battery level is under 30% and the scooter is not powered on for about 10 consecutive days, the battery will enter into sleep mode* to extend its life. In addition, the BMS 5th Generation Intelligent Battery Management System will keep your battery safe.
Short circuit protection
Overcurrent protection
Double protection from overcharging
Double protection from over-discharging
Temperature protection
Under voltage autosleep protection
Safer and more considerate
Dimensions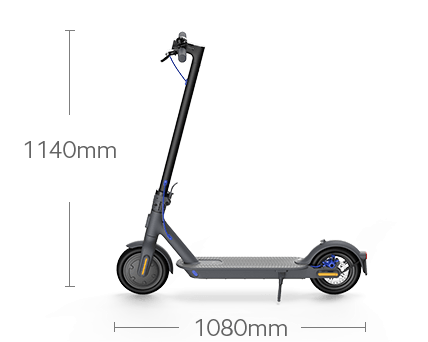 Dimensions (unfolded)

Dimensions (folded)
Basic Specs
Product model number
DDHBC16NEB
Max. speed
25km/h (Max speed for each mode: Pedestrian mode: 5km/h; D: 20km/h; S: 25km/h)
Range
30km
Weight
13.2kg
Gradeability
16%
Braking
eABS + rear dual-pad disc brake
Rated power
300W
Max. power
600W
Tires
8.5″ front and rear pneumatic tires
Controller undervoltage
protection
29V ± 0.5VController current limit17A ± 0.5AMotor typeBrushless DC motorMax. load100kgRider height120cm-200cmRider ageAge 18-50Working temperature-10°C ~ 40°CStorage temperature-20°C ~ 45°CIP-ratingIP54Charging time5.5 hours
Battery Specs
Lithium ion battery
Battery model
NE1003-H
Rated capacity
7650mAh/ 275Wh
Rated voltage
36VDC
42VDC
Charging temperature
range
0°C ~ + 40°C
Discharge temperature
range
-20°C~ + 50°CBattery weight1.6kgCyclical lifetime500 charging cycles with power maintained above 70%
Adapter Specs
Output power
71W
Input current
2A Max
Output current
1.7A
Input voltage
100-240VAC
Max Output voltage
42VDC
DC cable length
2m
DC cable port type
Custom Φ8.0 x 1.6mm
Package Contents
Mi Electric Scooter 3 x 1
Power adapter x 1
T-share Allen Wrench x 1
Extended nozzle adapter x 1
Screws x 5
Tire x 1
User manual
Important information
Specifications